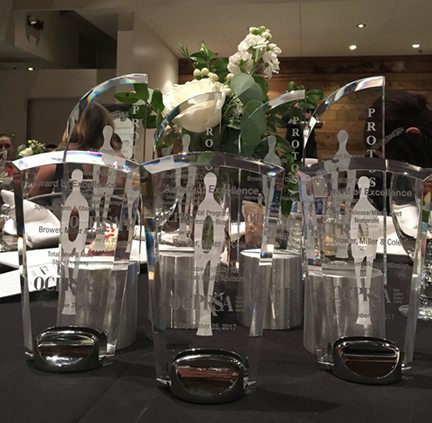 16 Oct

BROWER GROUP TAKES HOME LARGEST NUMBER OF HONORS AT THE 2017 OC PUBLIC RELATIONS SOCIETY OF AMERICA AWARDS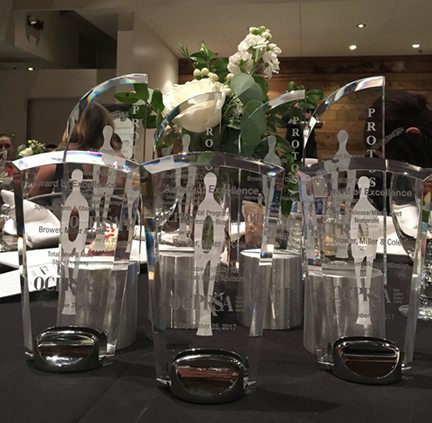 NEWPORT BEACH, Calif., (October 9, 2017) – Brower Group, Orange County's leading public relations, content and marketing agency, was recently recognized by the Orange County Chapter of the national Public Relations Society of America with seven distinctive awards acknowledging the firm's excellence in public relations and marketing communications.  This was the most awards won by a single agency.
Brower Group took home the event's highest honor in the Corporate Identity category, receiving a "PROTOS" award for the re-branding of retail investment giant Westwood Financial.
A second PROTOS went to Brower Group for Best Overall Business-To-Business PR Program for its strategic approach and bottom-line results achieved for institutional fund manager, Avanath Capital Management.
Brower Group also won top honors for creativity in email marketing. The agency earned two PROTOS awards for its engaging use of video and design in campaigns created for national equipment financing firm Summit Vendor Finance and San Diego commercial real estate developer and investor, RAF Pacifica Group.
Other awards earned by Brower Group include:
An Award of Excellence for a Grand Opening PR campaign that connected Total Wine & More stores with local businesses and consumers in Northern California.
An Award of Excellence for Business-To-Business PR on behalf of $8 billion fund manager American Realty Advisors
An Award of Excellence for PR that helped the Orange County Rescue Mission receive 736,494 urgently-needed donations – more than 1,200% above the original ask.
"Generating results that help our Clients achieve their business goals is the true focus of our work," says Judy Brower Fancher, CEO of Brower Group. "We appreciate and celebrate this industry recognition as a reflection of the hard work and dedication that the entire Brower Group team embodies each day.  We look forward to continuing to do our best work on behalf of our Clients."
About Brower Group
PR, Content, & Marketing for Commercial Real Estate, Finance, & Healthcare –
Brower Group is The Smart Agency™ for Smart Clients seeking Smart Work.
Established in 1994, Brower Group is well-known for its strategic and proactive approach to marketing communications, and has been recognized nationally for the substantial results it has delivered to business-to-business and business-to-consumer clients on a local, regional and national basis.
Further information is available at www.brower-group.com.