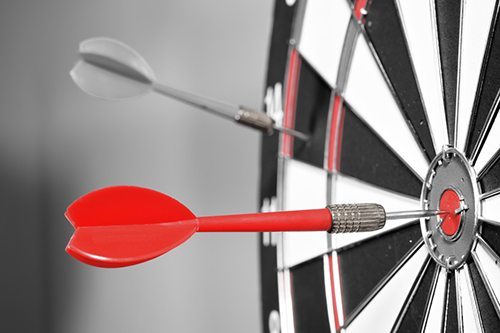 12 Jul

Is Your Marketing Really Targeted?
We've all heard the phrase, "the more the merrier," but this happy-go-lucky strategy doesn't always resonate well when it comes to delivering marketing that makes a difference.
To some people, distributing content to the masses may sound like a good idea. "The more people I send this to the better, right?" Not really.
The reality is, casting a wide net and hoping something sticks isn't doing any favors for your company's bottom line.
Without a targeted approach, the chances of your firm's marketing reaching the right people who can truly impact your business are slim. Instead, you'll find yourself "buying waste," paying for promotions that don't actually move the needle for your firm.
The challenge is that creating a well-targeted approach takes time, thought, and research.
For that reason, even though a targeted approach can be one of the most influential steps in a company's overall marketing, public relations, or social media strategy, this step is often overlooked.
In an effort to help companies better target the right audience for their businesses, the team of marketing specialists at Brower, Miller & Cole assembled a quick list of 3 questions to ask yourself in order to determine:  is your marketing really targeted?
1) Have you defined your audience?
If you think the audience for your firm's marketing is "everyone," then you are likely spending too much for marketing that is having little impact.
Instead, decide who you ideal buyer is based on their demographics, needs and behaviors.
After you know your buyer, you'll be able to predict what they read, how they consume media, and how you can best reach them.
We recommend creating a buyer persona to get the process going. Our friends at HubSpot have a fantastic tool you can use to create one – click here to give that a try.
2) Have you conducted research?
After you've identified who you believe your targeted buyer is, it's a good idea to gather insights from your actual audience.  Short surveys via email (check out SurveyMonkey), or even via phone can work wonders for a marketing strategy.
Our firm often conducts research on behalf of companies prior to developing a marketing plan, and it can be as simple as a series of phone interviews with 5-10 executives, 5 – 10 "front line" employees, and 5-10 key customers. By asking questions such as, "What do you think is the biggest challenge this company faces?" or, "What made you select this company as your service provider?," a marketer can gain a deeper understanding of a firm's target, and that will lead to more effective messaging in future marketing.
3) Are you paying attention to your competitors?
Your competitors might be targeting an audience you haven't even thought of yet – and it could be a good move.  We recommend putting together an audit of close competitors' marketing and advertising and giving it a thorough review and analysis. By looking at what others are doing, you can often identify tweaks that can contribute to more targeted marketing moving forward.
If you'd like assistance with creating a more targeted marketing strategy for your firm, give us a call at (949) 955-7940.