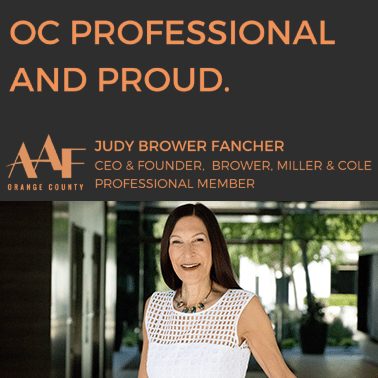 10 Aug

AAF Member Spotlight: Judy Brower Fancher

Judy Brower Fancher is CEO of Brower Group – The Smart AgencyTM for Smart Clients who want Smart Work.
Brower Group provides sophisticated Public Relations, Content and Marketing to clients throughout the U.S., with a specialty in serving the Commercial Real Estate, Finance and Healthcare sectors.
Established in 1994, Brower Group is headquartered in Newport Beach and has satellite offices in Los Angeles and Brooklyn.
Why It's Important to Be The Smart AgencyTM:
According to Judy, "Brower Group is 100% committed to hiring people with exceptional intelligence. This is more important today than ever before, because the sheer number of available tactics, platforms, devices and audience segmentation variants continues to grow every day!  Marketing therefore requires a team that is smart enough to maintain a laser focus on each client's opportunities to achieve true ROI.  It's not rocket science, it's harder – and more interesting!"