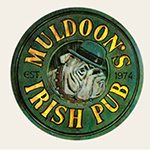 13 Jul

Muldoon's Irish Pub Names Brower, Miller & Cole As Agency Of Record
Brower, Miller & Cole has been selected to handle public relations and marketing strategies for Muldoon's Irish Pub, a Newport Beach-based, family-owned iconic restaurant, according to Judith Brower Fancher, CEO of the marketing agency.
"Muldoon's has been a favorite of our firm's for our entire 19 years in business," notes Brower. "We are not only excited about promoting the amazing chef/owner menu and the wonderful pub side of the business, but also particularly enjoy our company research trips to this Irish pub."
"After assisting Muldoon's with branding recommendations and its new menu layout, on which new fresh dishes are offered seasonally, we are promoting the food, bar, bands, contests and special holidays through publicity, social media and direct marketing," Brower added.
Brower notes that owners Ronald and Sindi Schwartz remain absolutely central to the restaurant after nearly 40 years in business.
"Sindi is a long-standing chef, with rich experience in the culinary world, including hosting her own TV cooking show. For Muldoon's, she uses her expertise to create a compelling, authentic Irish pub menu. She also personally cooks many of the special, favorite menu items, such as Sindi Rae's Dark Chocolate Pudding, which is offered only when Sindi is in the kitchen to prepare it," Brower adds.
Muldoon's features a full bar, with a special focus on Irish beverages, from its 17 Irish whiskeys to a full complement of Irish beers on draught and in bottles. Featured menu items, such as Mrs. Murphy's Pot Roast, Fish and Chips, and Irish Stew, are paired with lighter fare such as fresh salads.
Brower, Miller & Cole is a Newport Beach, California-based marketing firm providing the right marketing tools and newly minted business ideas to business-to-business and business-to-consumer clients on a local, regional and national basis since 1994. Further information is available at www.browermillercole.com.
About Muldoon's Irish Pub
Celebrating nearly 40 years, Muldoon's is situated on the corner of Southern California's #1 shopping/financial district, Fashion Island – Newport Center. Muldoon's is known for its two pubs, outdoor courtyard and cozy Dublin dining room filled with booths and a warm fireplace.
Locals call Muldoon's their "neighborhood gem" in a neighborhood filled with excellent restaurants, but, there is only one Muldoon's. Great for lunch, dinner, Sunday brunch and private events, Muldoon's has a lively happy hour, and late night live music on weekends and throughout the year with Live Concerts featuring some of the Best Irish Musicians in USA.
Awards include Best Pub in Southern California and Orange County, Best Food, Best Burgers, Best Guinness, Best Irish Coffee, including most recent 2012 Best Irish Pub – O.C.! For more information, visit www.muldoonspub.com.