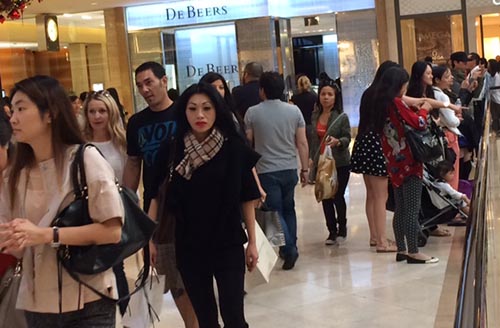 12 Jul

Retailers: Gird Your Loins!
The recession is over according to the shoppers. Based on the famous line above from the 2006 movie, The Devil Wears Prada, the positive onslaught is about to hit and store-level retailers need to get ready.
I've worked with shopping centers for long enough to know that every merchant says every year is the worst ever, but this year, they won't have the nerve to say it. Not with 18 people waiting in line to buy at Sephora two weeks before Black Friday.
The true meaning of Black Friday is based on becoming profitable for the year, i.e. moving out of the red, and into the black.  Well this year, not only are the Black Friday sales starting earlier, but the retailers themselves will likely experience profitability prior to that day.
How can we tell? Yesterday at South Coast Plaza, 13 entire days before the official Black Friday, there was not a single parking space available at the mall. Cars circled to find spots.
Inside, shoppers crowded the stores and created huge lines at the check-out counters.
These were not just people window-shopping. These were thousands of people with one, or two, or three bags of purchases, and they were still shopping for more.
It felt like an excited feeding frenzy, with shoppers gobbling up product.
The pundits talk about department stores shrinking and the internet growing, both of which are true.
However, apparently the shoppers aren't listening because they are busy buying retail in the stores.
While the largest retailer has certainly had its challenges, the CEO of Walmart is seeing the same trend I am, as he noted a couple days ago "Declining store traffic is an ongoing concern, but Foran said in recent weeks the trend has been improving."
How can this be?
The answer is that there is huge pent-up demand, not only from the wealthy who felt it was impolite to shop like mad-people during the recession, but also within the "regular" population.
For the last several years, most people in the country, even if they were part of the 89-90 percent who never became unemployed, were afraid that because their friend or neighbor had been laid-off, they might be, too.
Jobs felt scarce, and those who were employed, which was a large percentage of the nation, were worried about keeping their current jobs. Spending, and spending on credit cards, has suddenly become an uncomfortable idea.
But that was then, and this is now.
So what's happening now?
Unemployment is well below last year's mark.
Housing prices have stabilized, and in many cases increased.
Small businesses are hiring.
Employees in most industries feel fairly secure that their own company is stable.
While people are still hesitant to say that holiday sales will be strong, I am certain that they will be.
This holiday season will be a jam-packed, elbow-pushing, delightful fight for parking spaces, retail products and a good spot in line for the cashier.
People will still be shopping online, of course, and individual retailers will still have major challenges. But it seems clear today that bricks and mortar sales for the holiday season will surprise the pundits with their abrupt increase in numbers.
If you're a bricks and mortar retailer, bring in some extra holiday help and don't let the number of shoppers surprise you!
— Judith Brower Fancher